Three FAQs About Slips & Falls Caused by Spilled Liquids
August 16, 2019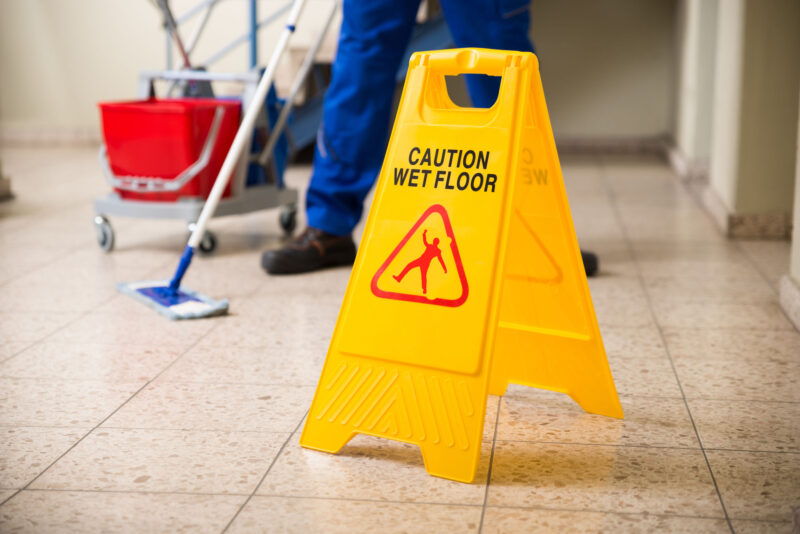 Sometimes a slip or fall is much more than an embarrassing blunder. These accidents can result in hip fractures, soft tissue damage, and even brain trauma. When the staff of a grocery store, restaurant, bar, or other establishment fails to mop up spilled liquids, they put everyone in the vicinity at risk of serious injury.
If you were hurt in a slip and fall, you may be entitled to compensation for your resulting medical expenses, lost wages, and other damages. To obtain a financial recovery, you will have to bring a premises liability claim against the property owner, manager, or possessor. This might sound overwhelming — especially when you're dealing with serious injuries — but you don't have to face the opposing party alone. A resourceful attorney can answer any questions you have about the proceedings and help you navigate the legal system.
Below we've provided the answers to three FAQs about slips and falls caused by spilled liquids:
1

. How can I prove liability for a slip and fall on a spilled liquid?
To recover compensation following a slip and fall, you must prove that the building owner, property manager, or possessor (or one of their employees) knew about the spill — or should have become aware of it through the exercise of reasonable diligence — but failed to clean the spill or to post clear warnings about it. Below are a few kinds of evidence your lawyer might use to prove liability:
The incident report;
Eyewitness deposition;
Surveillance footage;
Photographs of the spill;
The establishment's scheduling practices; and
The establishment's standard operating procedures.
2

. How can I strengthen my premises liability claim?
Your personal injury attorney will handle all the logistics of your case, but there are steps you can take that might strengthen your claim, such as:
Seeking prompt medical care;
Following your doctor's orders;
Not posting about the accident, your injuries, or the pending proceedings on social media;
Photographing the progression of any visible injuries; and
Writing daily journal entries detailing your symptoms, medication side effects, and the impacts the injury is having on your life and the lives of your loved ones.
3

. What kinds of damages may be recoverable in a slip and fall claim?
In the state of Indiana, personal injury claimants have the right to seek compensation for:
Property damage;
Past and future medical expenses;
Lost income, benefits, and future earnings;
Home care;
Domestic help;
Pain and suffering;
Scarring and disfigurement;
Permanent disability;
Mental anguish;
Effects of the injury on relationships; and
Loss of enjoyment in life.
Although the majority of slip and fall cases don't warrant punitive damages, there are scenarios in which a claimant may be entitled to such an award. For example, if someone spilled the liquid on purpose as a kind of prank, the victim may be able to seek a punitive award in addition to the compensatory damages listed above.
Call (
765

)

742

‑

9046

for a free consultation with a Lafayette personal injury lawyer.

If you're recovering from serious injuries after slipping on a spilled liquid at a business establishment, contact Ball Eggleston. One of our highly experienced legal professionals will answer your questions and help you determine the most strategic way to proceed. Call (765) 742‑9046 or fill out our contact form to schedule a free case evaluation with a personal injury attorney in Lafayette.
Contact us today to schedule a consultation with one of our experienced attorneys.
Ball Eggleston — a Lafayette, Indiana law firm — is located at 201 Main Street, Suite 810 P.O. Box 1535 Lafayette, IN 47902. Contact Ball Eggleston by phone at (765) 742‑9046, by fax at (765) 742‑1966, or by email at info@​ball-​law.​com. For additional information, find Ball Eggleston online at ballegg.local.
You can also find the firm on Facebook and YouTube.
The content of this blog is intended to be general and informational in nature. It is advertising material and is not intended to be, nor is it, legal advice to or for any particular person, case, or circumstance. Each situation is different, and you should consult an attorney if you have any questions about your situation.