Building from the Ground Up: I've been in a motorcycle accident. What are my legal options?
July 6, 2016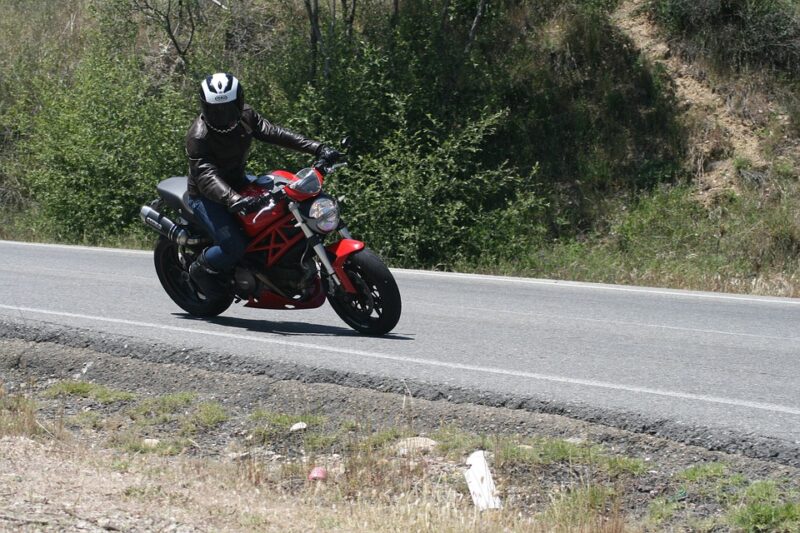 Motorcyclists are more vulnerable on the road than those who drive trucks, cars, and other enclosed vehicles. Even when motorcyclists obey the law and ride carefully, accidents may still occur. If you or a loved one has been in a motorcycle accident, you might be hurt, confused, and wondering what to do next – that's where Ball Eggleston comes in. Our experienced attorneys have seen hundreds of cases over the years, including motorcycle accidents, so we will be able to answer your questions and help you decide what to do next.
In this blog, we will talk about options available to you in the event of a motorcycle accident. Once you understand who is liable and what the damages are, you can take legal action with the help of our attorneys. Not all cases will go to court, but it's a good idea to call us so that you can fully understand the situation and get back on your feet as soon as possible.
Who's at fault?
Before you decide whether you should go to court, it is important to establish two things: liability and damages. Liability simply means who was at fault. So, for example, if a driver rear-ended you when you were waiting at a red light, he is at fault for the accident. Those who might be liable include (but are not limited to):
Another driver: According to National Highway Traffic Safety Administration (

NHTSA

), the most common cause of motorcycle accidents is motorists' failure to detect and recognize the motorcycle and its rider in traffic.
Repair shops or the manufacturer:

If your brakes were repaired improperly, or your motorcycle's metal frame experiences premature fatigue, the bike itself could have caused your accident or injuries – and you might have a claim against your repair shop or the motorcycle manufacturer.
Roadway maintenance or the government:

Motorcycles are much more susceptible to roadway defects like potholes or uneven asphalt defects than four-wheel vehicles. If a road defect was the reason for your accident, you might have a claim against road maintenance in your state, county, or city government.
You:

If you were speeding, improperly switching lanes, or failing to use your turn signal,

you

might be at fault for the accident – all the more reason to call your attorney.
Damages refer to your injuries or other losses suffered as a result of the accident. If that driver caused you physical harm and/​or damaged your motorcycle, then you have suffered serious damages that you could recover in court. Remember: the damages don't have to be just physical. For example, if the accident has caused you to miss work or be afraid of riding, you can claim financial or emotional suffering. It is sometimes challenging to determine exactly who is at fault and how much damage you have suffered, so call your Ball Eggleston attorney to sort this out together.
What can I recover?
If another driver was responsible for your accident and caused significant damage, you can choose to proceed to court. Keep in mind that there are two types of possible valuations with your claim: settlement value and trial value. The settlement value is what you reasonably hope to settle the case for before actually going to trial. The trial value, on the other hand, is the amount you expect to win by going to trial. If you are confident that the motorist or another party was liable for your injuries, and you can prove that you've suffered physically and financially, then you have a chance of winning your case with an experienced Ball Eggleston attorney by your side. If, on the other hand, you decide that you would rather just resolve the matter, your attorney can help you settle outside of court as well.
What happens if I go to court?
If you do proceed to trial and win your case, there are two ways that damages are classified: those capable of exact calculation (special damages) and those that are not (pain and suffering). Special damages are the plaintiff's past, present, and future lost earnings and/​or lost earning capacity. These include employment benefits, and medical expenses, lost wages, etc. Pain and suffering, on the other hand, are not damages that someone can quantify, but they are just as important. For example, if you now fear riding your motorcycle because of the accident, you might regard this as a greater loss than the money it would take to repair your motorcycle. And, of course, your Ball Eggleston attorney will be by your side to present your case honestly and to help you receive the compensation you deserve.

Contact us today to schedule a consultation with one of our experienced attorneys.

With a personal injury as serious as a motorcycle accident, you want to be sure that your health, lost wages, and trust are restored. If a negligent driver or other party has taken these from you, then you may have a case and can maximize your recovery with the help of our attorneys. They are experienced in the following areas regarding motorcycle accidents:
Head injuries

Helmet laws

Spinal cord injuries

Bad visibility

Catastrophic injuries

Brain injuries

Wrongful death
Your committed attorneys at Ball Eggleston will work with you every step of the way to make sure that you receive compensation for medical expenses, lost wages, long-term care, or even wrongful death. Contact or call us today for a free initial consultation.
---
Ball Eggleston is located at 201 Main Street, Suite 810 P.O. Box 1535 Lafayette, IN 47902. Contact Ball Eggleston by phone at (765) 742‑9046, by fax at (765) 742‑1966, or by email at info@​ball-​law.​com. For additional information, find Ball Eggleston online at ballegg.local. You can also find us on Facebook and YouTube.
Disclaimer: The content of this blog is intended to be general and informational in nature. It is advertising material and is not intended to be, nor is it, legal advice to or for any particular person, case, or circumstance. Each situation is different, and you should consult an attorney if you have any questions about your situation.